Regulations for the Shinai
These are the current International Kendo Federation regulations for the shinai.
Regulations for Use of One Shinai
gender
Grade School
Junior High School
High School
College - Adult
length
male
female
99cm
maximum
105cm
maximum
111cm
maximum
114cm
maximum
117cm
maximum
120cm
maximum
weight
male
260g
minimum
280g
minimum
370g
minimum
440g
minimum
480g
minimum
510g
minimum
female
400g
minimum
420g
minimum
440g
minimum
diameter
of
sakigawa
male
25mm
minimum
26mm
minimum
26mm
minimum
female
24mm
minimum
25mm
minimum
25mm
minimum
3.2
3.4
3.6
3.7
3.8
3.9
Regulations for Use of Two Shinai
long sword
short sword
length
male
female
114cm
maximum
62cm
maximum
weight
male
440g
minimum
280-300g
female
400g
minimum
250-280g
diameter
of
sakigawa
male
25mm
minimum
24mm
minimum
female
24mm
minimum
24mm
minimum
3.7
Measurements for the Sakigawa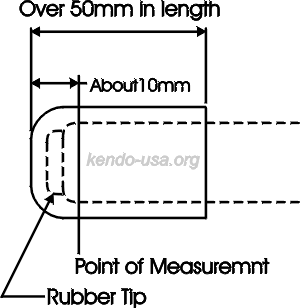 ---
Copyright © 2002 www.kendo-usa.org
Site Disclaimer: This website is posted for informational purposes only about Kendo in the United States. Information on this website is posted from many different sources and every effort is made to post accurate information. The study of Kendo must be done under the supervision of a qualified instructor and with proper equipment. Failure to do so could result in serious injury or death. Errors may occur and users use this site without warranties of any sort implied and at their own risk.